African Safaris
505-401-2988

Gorilla and Chimpanzee Safari 2019 March
 
March 16-22 2019 Gorillas and Chimpanzees.
With WildLife Photographer and guide Kevin Dooley
'AT A GLANCE' ITINERARY
DATE DAY DESCRIPTION ACCOMMODATION MEALS
March 16th
  Meet and Greet
Boma Guest House –
Entebbe-
Double room
B-B
March 17th
 Fly to Kibale National Park
Kyaninga Lodge
Kibale National park- Double
room
B – L – D
March 18th
Chimpanzee tracking Kyaninga Lodge
Kibale National park- Double
room
B – L – D
March 19th
Fly to BwindiNational Park
Sanctuary Gorilla Forest
Camp –
Bwindi National Park –
Double room
B – L – D
March 20th
 Gorilla Tracking
Sanctuary Gorilla Forest
Camp –
Afternoon Cultural tour Time dependent.
Bwindi National Park –
Double room
B – L – D
March 21st
Mar Gorilla Tracking
Sanctuary Gorilla Forest
Camp –
Bwindi National Park –
Double room
B – L – D
March 22 nd
Fly back & outDeparture
$7899.00
Single Supplement $789.00
Trekking for Gorillas and Chimps with Kevin Dooley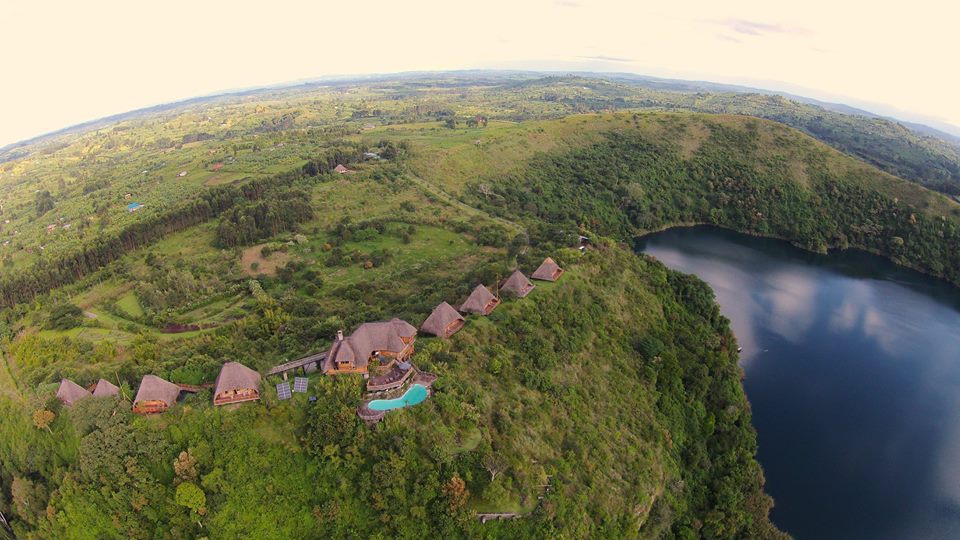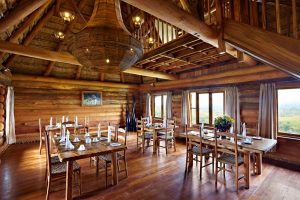 Day 1 – Entebbe – 16th March 2019
Arrive Entebbe airport you will be met by our representative today and transferred to Boma Guest House which is only 10minutes away from the airport
Boma Guest House
Double room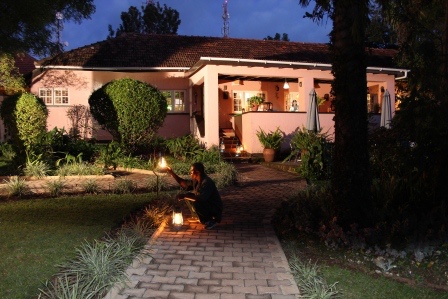 Day2- 17th March 2019
Entebbe –Kibale National Park
Early after breakfast, you will be transferred to the airport for your scheduled flight to Kibale National Park.  Upon arrival at the airstrip in Kasese, you will meet your guides who will then transfer you to Kyaninga lodge where you will be staying for two nights.
In the afternoon, you have the opportunity of doing the crater walk.
A comfortable stroll around the lake with stunning views of Lake Kyaninga, the Rwenzori Mountains and the beautiful rolling hills of Fort Portal. This is the minimum anyone should think of doing with the walk only taking about an hour and half and there being good chances of seeing Vervet monkeys, Black and White Colobus monkeys and an array of birds. A guide is not necessary but available free of charge.
Kibale National Park is an enchanting, pretty place and one of the most varied tracts of tropical forest in Uganda. At a little under 800 square kilometers (800 square miles), the park is a mix of lowland tropical rain forest, mixed tropical deciduous forest and montane forest; it sustains the last significant expanse of pre-montane forest in East Africa.   All those trees mean it's good monkey country: Kibale is famous for its thirteen resident primates including chimps, L'Hoest's monkeys with their snugly wrapped white neck ruffs, Black and White colobus, Grey Cheeked Mangabeys and red colobus whose copper colored backs gleam in the sunshine and catch the light; the Forest is the last place in Uganda where large concentrations of Red Colobus can be found.
The seventy species of mammals here, including smaller forest elephants, bushbuck, Harvey's red duiker, blue duiker, bush pig, giant forest hog and African civet, are partly supported because of the generous 180-kilometer (111 mile) wildlife corridor that runs from southern Kibale to Queen Elizabeth National Park. Birdlife is prolific – the great blue Turaco with its purple crest and yellow beak flits, exotically flamboyant, the gloriously named sunshine- bright joyful bulbul, so called for its gregarious chat and the green breasted pitta all inject jewel colour into the dark green of forests. The flutter of avian wings augmented by those in the insect world: Kibale is home to a staggering 250 species of butterfly.
Day 3-18 March 2019
Today after breakfast you will depart for the forest for Chimp trekking.  The tracking can be strenuous 2 – 4 hours trip would not be uncommon and so you should be fit and prepared with the correct footwear and drinking water for the duration and later.  Upon return you can do the Bigodi Swamp walk or a walk to the craters.
Day 4-19th March
After breakfast, you will be transferred to Kasese airstrip where you will take your scheduled flight to Kihihi airstrip. You will be met by your guide who will transfer you to Sanctuary Gorilla Forest Camp which is about a 90minute drive.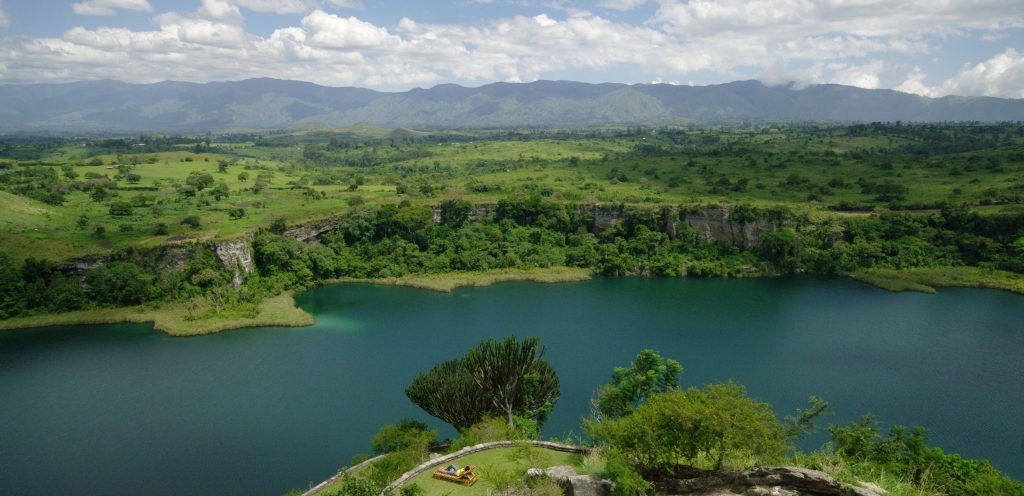 The gloriously named Bwindi Impenetrable Forest National Park is aptly named, 'bwindi' which means darkness, and this densely tangled green wilderness is deeply shaded, steeply rising, the elevation soars from just over 1000 meters (3280 feet) to almost 3000 meters (9850 feet), and so rugged and tightly packed, that it's only accessible on foot. Located in south-western Uganda, it is one of the richest, oldest and most diverse rainforests in the region, 25 000 years old boasting over 400 plant species, including more than 100 species of fern which thrive in this rich, wet place.  Bwindi receives over 2.5 meters (98 inches) of rain a year. Within its 330 square kilometers (127 square miles) live 120 species of mammals, 348 species of birds, 220 species of butterflies and 27 species of frogs, chameleons and geckos. From the tiny to the enormous, this thick, mist-shrouded lushness is also home to over 400 mountain gorillas, half the world's population, some of whom live within habituated groups so visitors can observe them: standing respectively, quietly aside, you can watch these enormous, majestic, impressive animals getting on with the business of living: feeding, playing, watching you back.  They aren't the only primates, they share the forest with almost a dozen other species including chimpanzees, L'Hoest's monkeys and colobus which leap from branch to branch, their black and white capes spread behind them as parachutes, their throaty calls rattling out across the forest.
Day 5 and 6 20, 21, March
Today is the long-awaited day. After an early breakfast, your guide will escort you to the Uganda Wildlife Authority Park headquarters where you will meet fellow trackers and gorilla guide who will then lead you into the forest to find the Mountain Gorillas. The trekking may be strenuous – up to six hours or longer is not uncommon – at relatively high altitude.  Mountain Gorillas are wild animals, and so, sightings cannot be guaranteed, however the success rate is well over 95%.  These massive primates are extremely rare, only approximately 650 remaining. You will get within meters of the family, and be privileged to spend up to one hour amongst them.
Returning to the lodge later in the day and time permitting, you may have an opportunity for further forest or community walks with the guides, visit the Batwa tribe or just to relax and enjoy your photos of the mountains gorillas.
Dinner will be at the camp on both nights but on your last night you get treated to a special farewell dinner.
Day 7 22nd March
After breakfast, you will depart for the airstrip in Kihihi for your scheduled flight back to Entebbe drive to the airstrip is about 90 minutes from the lodge- your scheduled flight 0945hrs to Entebbe will take about 90 minutes where you will then land at Entebbe airport 1125hrs you will be met and taken to departure before your flight home.
WHY GORILLA FOREST CAMP
Frequently visited by gorilla families due to its unique location
Exclusive camp with only eight rooms, the perfect base for a once in a lifetime trip to track mountain gorillas
Opportunity for community interaction, including the local Batwa Pygmies
Specially customised sedan chairs with support and harness allows less able guests to be carried into the rainforest to track the gorillas in their natural habitat
An established philanthropy project at Bwindi Community Hospital which guests can visit
Located within Bwindi National Park, Sanctuary Gorilla Forest Camp offers guests an unrivalled location, including the best bird and wildlife viewing in the Bwindi area.
REMOTE AND ATMOSPHERIC
As the only concessionaire luxury camp within Bwindi Impenetrable Forest, Sanctuary Gorilla Forest Camp is the perfect base from which to track the park's most famous resident – the mountain gorilla. The main area features a comfotable lounge and bar area as well as the main dining area while the mini spa offers a wide selection of treatments. Located within the National Park, Sanctuary Gorilla Forest Camp offers guests an unrivalled location, including the best bird and wildlife viewing in the Bwindi area. In fact Sanctuary Gorilla Forest Camp often receives regular visits from the gorillas themselves. For the lucky guests in camp at those times, they may have the chance for a gorilla encounter without even leaving Sanctuary Gorilla Forest Camp.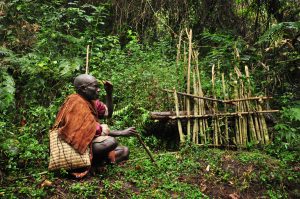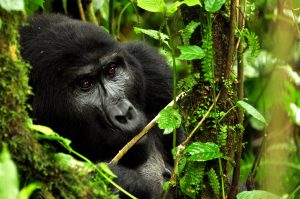 RELAX IN THE RAINFOREST
The eight tents at Sanctuary Gorilla Forest Camp are stylish and spacious, each featuring two queen sized beds. In addition to the comfortable warm beds, each tent has a huge bathtub that looks straight into the jungle canopy ideal for soaking tired muscles after a day spent observing and meeting gorillas. Observe rare forest species while soaking in the tub, followed by a cocktail on the private viewing deck served by your personal attendant.
 Sanctuary Gorilla Forest Camp prides itself in the personalised service we are able to offer our guests. Please let us know if you have any special requests and or dietary requirements.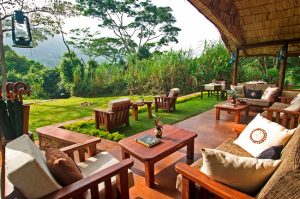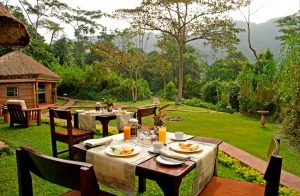 SILVER SERVICE
The bar and dining cottage overlooks the rainforest and a raised natural platform is built for open air-dining. A full English and continental breakfast is served before your morning activity. Trekking gorilla's today? The camp will pack you a scrumptious lunch including fresh fruit, sweet and savoury delights to take with you. Once back at the camp celebratory drinks and snacks will be served under the stars by the roaring campfire as you discuss your amazing adventure. All meals are à la carte and served in the bar and dining area overlooking the rainforest. Chef Jackson serves a silver service dinner with four to five courses each evening. One of the mains might even include his favourite dish – Matooke rolled chicken with creamed spinach and ground nut sauce. Celebrating a special occasion? We are able to offer romantic private dinners.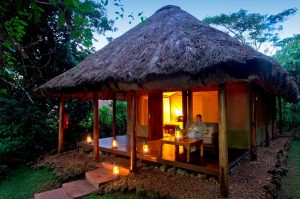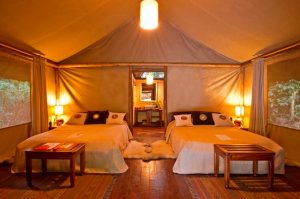 The camp has an airstrip 75 minutes away where most guests arrive, but can also be reached by car in ten hours from Kampala.
Private charter flights depart daily from Entebbe to Kihihi airstrip (about a 2 hour flight depending on stops). The journey from Kihihi Airstrip takes around 1 hour 15 mins.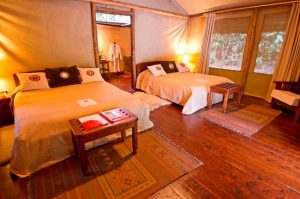 WILDLIFE
The area around Sanctuary Gorilla Forest Camp is filled with cheeky L'Hoest's monkeys. Recently we have had lots of these curious monkeys coming into camp to have a good look at their hairless neighbours. From visiting at dinner time to watching guests in the lounge, these cheeky monkeys are very entertaining.
With over 350 bird species filling the Bwindi Impenetrable Forest, guests have enjoyed numerous wonderful bird sightings both in and out of the camp. A particular favourite among the guests has been the ornately feathered Crested Crane. Walking with such grace and beauty, it is a pleasure to watch.
Guests have been lucky enough to meet Kanyonyi, the dominant silverback in the Mubare family. He has gained a bit of a reputation around the area due to his ambitious expansion plans. Having had various run-ins with other families, several kidnappings (and a few rescues), he is definitely one of our favourite personalities!
Due to Sanctuary Gorilla Forest Camp's perfect location within the grounds of Bwindi Impenetrable Forest, guests at camp are quite often treated to unexpected visitors; the gorillas! Recently we had a troop of mountain gorillas come along the road leading up to the camp. What a delight!
There have been many sightings of Black and White Colobus monkeys from guests both in the camp and on forest walks.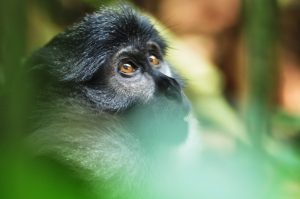 Uganda Inclusions: 

Accommodation and meals as above
Meet and greet
Drinks at Gorilla Forest Camp
Drinking water
English speaking guide
Transfers to and from the gorillas
Park Entry fees
Community walk (Batwa)
Swamp walk in Kibale
Crater walk in Kibale
Forest walk in Bwindi
Land cruiser in a 4×4
Gorilla permits $600 each
Kibale chimp permits $150 each
Scheduled and seat rate flights when in Uganda
Uganda Exclusions: 

Tips
Any items of personal nature
Entry visas $50 each and must be completed online https://visas.immigration.go.ug/
Travel and medical insurance
International flights
Safari
$7899.00 per person Double Occupancy. $799.00 Single,
Depart USA  March 14th or 15th 2019
Arrive Entebbe March 16th 2019
Overnight Entebbe March 16th 2019. .
March 17th, 2 nights Kibale, Chimp  Trek
March 19 Transfer
March 19,20,21 Bwindi Gorilla Trekking ,
March 22nd flight to Entebee  Depart for Home or Extension.  
Whats Included in most Safaris
Accommodation at main lodge safari camp / Beverages / Meals / Game Drives / Drinks and Snacks on Game Drives / Transportation to and from Village, Lodge, and Airport.
Extra Charges on Most Safaris
Alcohol, Sodas, Bottled water / Laundry Services / Accommodations and food before and after Safari commencement / Air Transport to and from Africa / Air Transport between safari camps if there is more than one camp /Park Fees /  Gifts and curios .