African Safaris
505-401-2988

Gorilla and Masai Mara African Safari and Photography Workshop 2019
Masai Mara and Gorilla Trek African Combo Safari photography workshop with Rick Sammon April 3-12 2019
Sold Out
April 3-12 2019 Depart USA April 2nd.

Your African Safari
Limited seating, will fill up fast. Call now 505-401-2988 to reserve your spot. This is a very unique Gorilla experience.
A full African Safari that takes place in two of the most beautiful and unique Safari areas in Africa. This is an amazing opportunity to experience Africa in a way that very few people get to do, with world renown Photographer and Author Rick Sammon. Kevin Dooley will also be available to assist with wildlife photography techniques.
Award-winning photographer Rick Sammon loves his day job. A tireless, prolific and inspirational image-maker, Rick, called by some "The Godfather of Photography," is one of the most active photographers on the planet – dividing his time between creating images, leading photo workshops, and making personal appearances. Rick's enthusiasm for digital imaging is contagious. He is a man on a mission – a mission to make digital photography fun, creative, exciting and rewarding for others.
What You'll Learn from Rick
Wildlife Photography, Landscape and People Photography Techniques
Getting the Best In-Camera Exposure
Composition Techniques
Image Processing in Photoshop and Lightroom
Storytelling
Low-light photography
Fill-in flash photography

Masai Mara African Safari
Four Nights
Olonana is an award-winning tented safari camp on a private stretch of the Mara River in the heart of Kenya's most famous game reserve, the Masai Mara.
This small and exclusive camp, was built along sustainable lines which, along with our innovative wetlands and tree-planting projects, have earned Sanctuary Olonana a Gold Award from Ecotourism Kenya. Game drives, cultural visits, bush dinners, sundowners, scenic flights and balloon rides, Olonana makes for a wonderful African safari.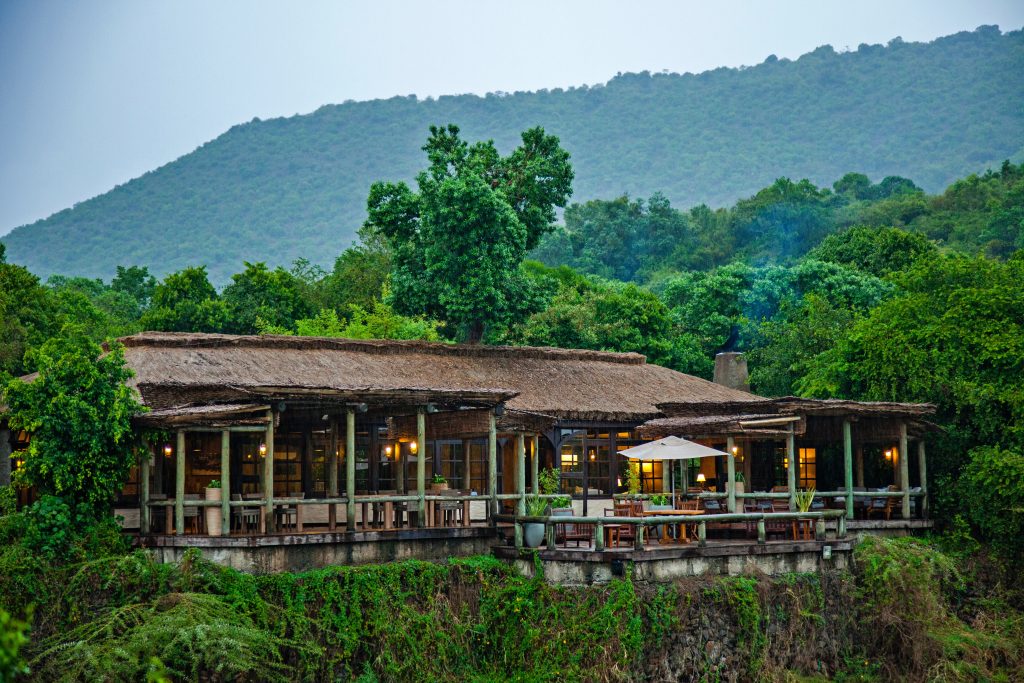 CLASSIC MASAI MARA
Sanctuary Olonana, our award-winning tented camp situated on a private stretch of the Mara River, recently undergone a significant upgrade to the public areas of the lodge as well as a soft refurbishment to the tented rooms and pool area. The interior décor reflects a contemporary design using a combination of light earthy tones and the local Maasai women played an active part in the refurbishment using the same traditional technique used in their own houses to "mud" the interior walls in all of the main areas and curio shop. From the main viewing deck see and hear the family of noisy hippos who colonise the banks below the camp. Relax with a good book in the library, cool off in the pool or for an extra special treat, experience traditional African remedies and spa treatments in the mini-spa.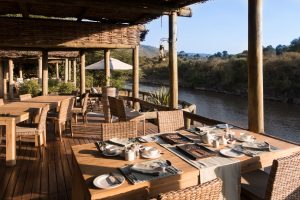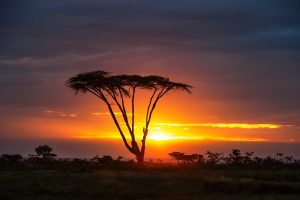 OVERSIZED SAFARI TENTS
Built on the banks of the Mara River, the fourteen canvas tents at Sanctuary Olonana are extremely comfortable and spacious. The en-suite tents all have two four-poster beds with floor to ceiling mosquito netting – making them perfect for families travelling with small children. Each of the private verandas overlook the river and offer the perfect spot where guests can relax and watch the resident hippos wallow in the water. There are also two honeymoon suites, each featuring outdoor showers.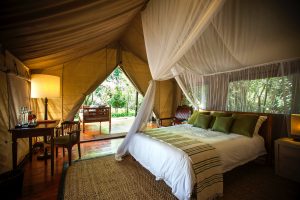 BUSH BREAKFASTS, PICNICS & DINNERS
We may decide to take a picnic breakfast or lunch with us, but equally lovely in the evening is to enjoy a bush dinner. A private and secluded clearing is prepared for an elegant dinner in the middle of the African bush. As the sun swiftly sinks, the setting is illuminated by a magnificent log fire. The table setting is as sophisticated and elegant as found in the finest restaurants with wild flower arrangements that grace starched white table linen. Candles flicker in the darkness, throwing golden lights on the table cloth as smiling waiters serve a delicious dinner. After dinner retire to the warmth of the campfire where brandies and liqueurs are served as you absorb the peace and beauty of an African night.
SUNDOWNERS
As the afternoon game drive comes to an end, drive to a specially chosen vantage point overlooking the Mara plains. Drinks are served as you take in the beauty of the rapid sunset colouring the acacia dotted plains and transforming the world in a matter of minutes. Enjoy the warmth of the fire and discuss the day's adventures as waiters serve canapés and a selection of drinks, with the spectacular setting sun in the horizon.
LUXURY, NATURALLY
Adventure, enchantment and 'Luxury, naturally' – all delivered with a quiet, understated charm and understanding of place – is the guiding philosophy of Sanctuary Retreats and our tented safari camp, Sanctuary Olonana.
Sanctuary Olonana is a traditional tented safari camp located on a private stretch of the Mara River at the foot of the impressive Siria Escarpment, close to where the famous last scene from "Out of Africa" was filmed.
The eco-friendly camp is one of the first to incorporate a natural water treatment system and has an organic garden where much of the vegetables served in camp are grown.
Located in a private concession bordering the epic Masai Mara
Luxury tented accommodation  built on the banks of the Mara River
Easy access to the Great Wildebeest Migration, only 45 minutes flight from Nairobi
Very strong conservation and community interaction
Offers an array of activities including game drives, cultural visits, bush dinners, sundowners, balloon flights and scenic flights
Complimentary Wi-Fi in the rooms and main area


ACCOMMODATION AND FACILITIES

Overlooking the Mara River, award-winning Sanctuary Olonana, this luxury safari property, is the idyllic location to experience a classic and authentic African safari. This luxury safari camp is an exclusive hideaway complete with library, swimming pool, and the freedom to enjoy a three course dinner deep in the bush or on the private river-view terrace of one of the 14 luxurious canvas pavilions.

Built on the banks of the Mara River, the 14 canvas tents at Sanctuary Olonana are extremely comfortable and spacious. The large tents feature private verandas overlooking the river where a pod of hippos live permanently. Ensuite facili es include a double vanity and indoor shower. There are two honeymoon suites with outdoor showers. Facilities in all rooms include a room safe, mosquito nets and hairdryer.

The main dining room and decking command views over a dramatic stretch of the river. There is also a mini-spa offering luxurious treatments ranging from facials to body massages. Complimentary Wi-Fi is available in the rooms and main area. Electricity supply is a combination of silent packed generator, solar power and battery system.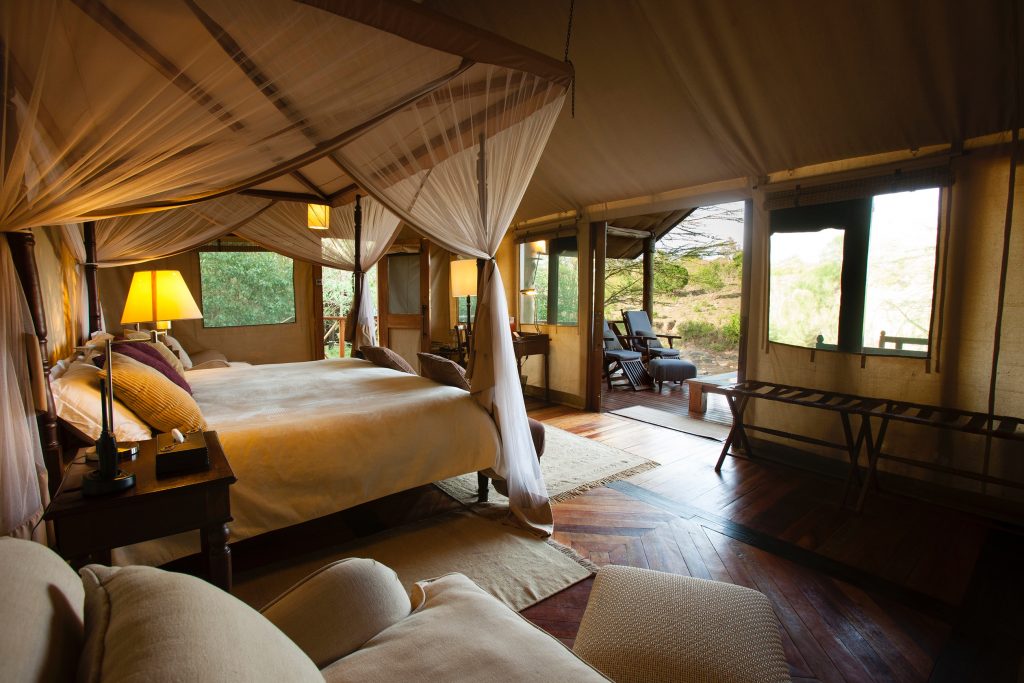 GAME VIEWING AND ACTIVITIES
The Masai Mara Reserve is legendary for its abundance of wildlife. Fabulous for seeing big cats, their prey and all of the Big Five year-round. Key wildlife include: lion, leopard, elephant, buffalo, hippo, giraffe, zebra, cheetah, impala, wildebeest.
Game drives: At Sanctuary Olonana, game viewing starts from the camp. A pod of hippos lives permanently in the river just below camp and many other species come to drink there.  Experienced guides take you to all the hidden spots and our customised open safari vehicles with all-round views, allowing for excellent photography opportunities  The Mara's rich eco-system includes acacia-studded savannah, riparian forest and woodland which attract more than 300 bird species and a stunning variety of animal life all year round.
Maasai Village Visit: Get an insight into the vibrant and traditional way of life of the Maasai. Learn about the medicinal plants that grow here, the importance of cattle and the stages of life through which all Maasai pass, from young boy or girl to respected elder. Accompanied by an experienced Maasai guide, you are invited to visit the village which is built along traditional lines; complete with cattrle enclosure, outer palisade and mud and cow dung huts.
Nature walks: Walk with our naturalist and learn about plants, trees and insects and their use in the daily lives of the Maasai tribe. Visit our award-winning wetlands, which cleanse wastewater naturally before returning it to the environment. There is an opportunity to plant a tree, leaving a positive mark in Africa. Our naturalist shares his in mate knowledge of the surrounding environment and how many of the trees and plants are used for medicinal purposes. Your guide will also point out animal signs which are everywhere, but not that easily noticed.
Local School Visit: More and more popular are the visits organised by our guides to a variety of local schools during school term. These visits are free but we would recommend a donation to the school of anything upward of $15 per person.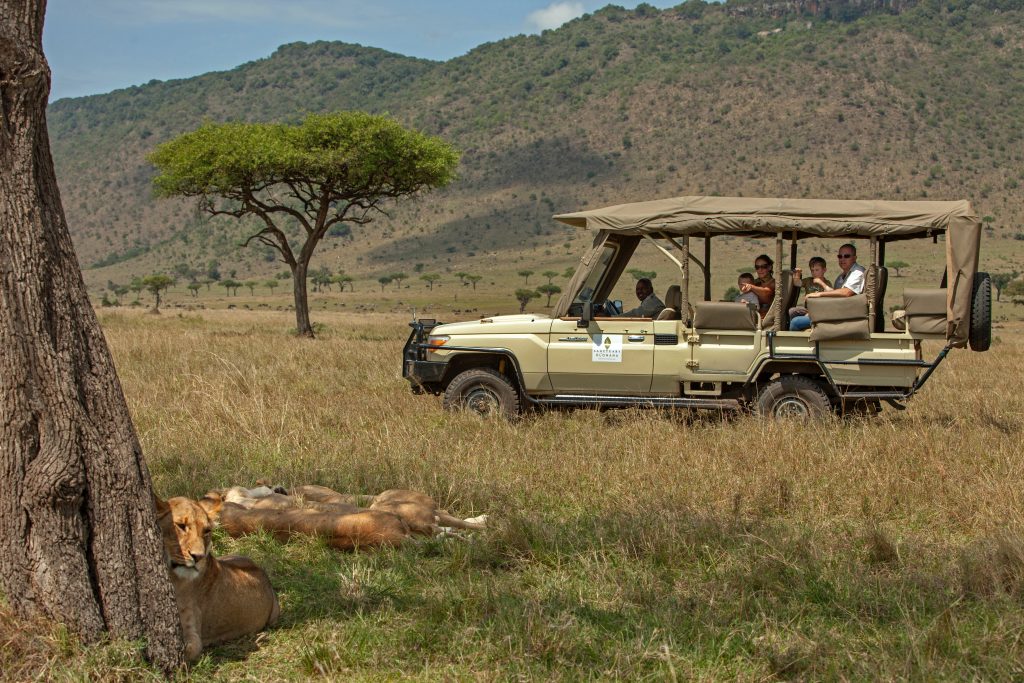 ADDITIONAL ACTIVITIES Charged Extra.
Hot air balloon safari: Your balloon is inflated against the first rays of sunrise and once aloft floats gently over the plains and the plethora of game. After about one hour the balloon lands and nearby, breakfast is already being prepared.
The smells of bacon, sausages and eggs drift on the breeze as you begin breakfast with platefuls of Kenyan fruits and pastries and, of course, glasses of bubbly to toast your flight.
Spa Treatments: Between activities, relax at our mini-spa which offers a range of treatments from facials to body massages. With spectacular views over the Mara River and the soothing sound of the river and hippos in the background – you'll have no choice but to relax. Africology uses healing essences of some of South Africa's indigenous plants, Rooibos, Aloe Ferox, Marula and African Potato. They are dermatologically tested to EU standards, not tested on animals nor use any animal products.
Additional activities are at an additional cost and can be pre-booked or booked while guests are in camp.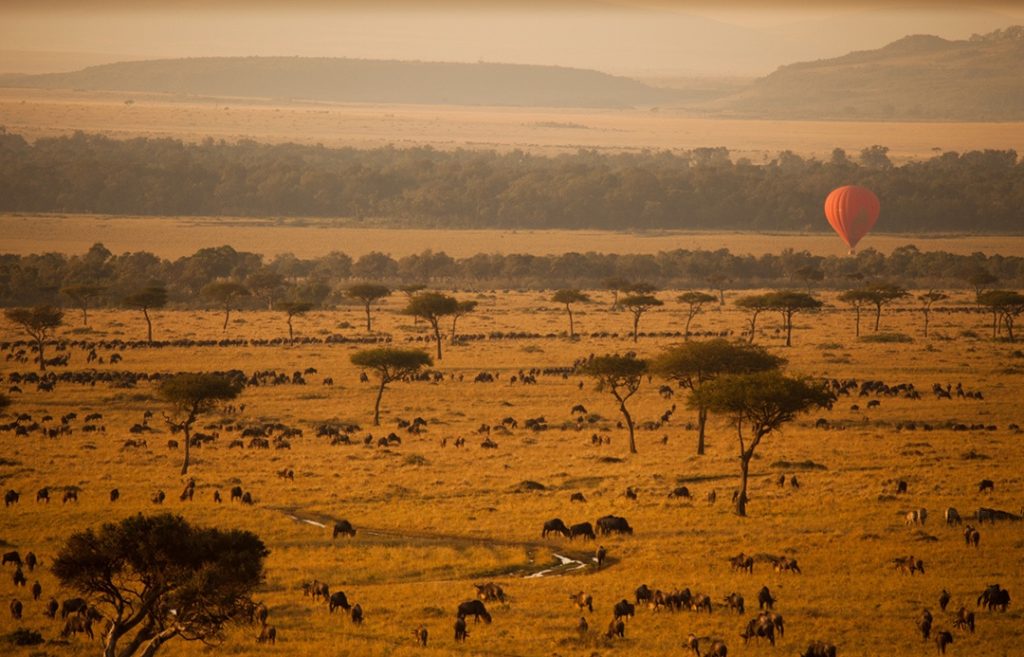 DINING
Breakfast, lunch, a ernoon tea, snacks during ac vi es and dinners are all included in your stay. Breakfast is served before the morning game activity. During your morning game viewing ac vity, co ee, tea and a selec on of scones and biscuits will be served out in the bush. Lunch will be enjoyed back at the camp. A ernoon tea is served just before the a ernoon game ac vity and o ers a selec on of cakes, sweet and savoury treats, tea, and co ee and fresh fruit juices. A ernoon and evening game drives include classic sundowner cocktails and canapés at specially selected spots before returning to the camp for pre-dinner drinks and dinner. Roman c private dinners on your room deck or by the pool can be arranged upon request.
Meals typically consist of the following:
• Breakfast: Con nental and full English Breakfast
• Lunch: Table d'Hote
• Dinner: Table d'Hote, 3 course meal with 2 to 3 choices, one being a vegetarian
HEALTH
Discuss health precautions for your travel itinerary with a qualified health professional at least six weeks before you depart. We advise all travellers to take precautions against malaria and we recommend speaking to your GP or personal physician four to six weeks before departure. A yellow fever vaccination is required for travellers to Kenya.
MONEY AND CREDIT CARDS
All extras can be paid for with Visa, MasterCard, American Express and traveller's cheques. US dollars, Pounds, Euro's and Kenyan Shillings are also accepted; however change will be given in the local currency. Diners Cards are not accepted.
CLOTHING
Clothing should be cool and comfortable; and colours should blend in with nature as much as possible.
Greens, browns and khaki coloured clothing are advisable for safaris. Guests are advised to pack their swimwear. We suggest long sleeves and long trousers and for morning and evenings due to mosquitoes; and a fleece, sweater or warm jacket for morning and evening game drives. Sturdy and comfortable shoes are essential. A complimentary overnight laundry service is offered in the camp.
Accessories: Sunscreen, sunglasses and hats are essential al. Binoculars and good cameras are an absolute must. The camp provides a torch as well as complimentary mosquito repellent and toiletries.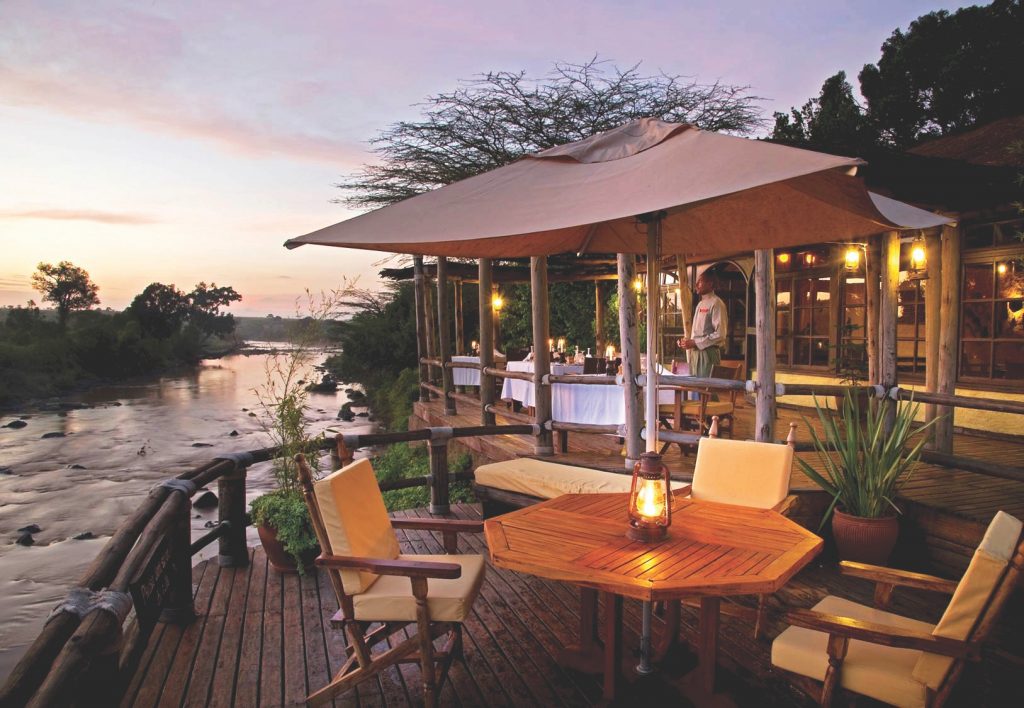 Gorilla and Masai Mara African Safari and Photography Workshop

Gorilla Trekking
Three Nights
Our Gorilla Forest Camp is nestled deep inside Bwindi Impenetrable Forest, a UNESCO World Heritage Site in southwest Uganda. This camp is one of the most remote and atmospheric in Africa. Bwindi Impenetrable Forest impresses with a truly theatrical landscape – this is a region of volcanoes, jagged valleys, waterfalls, lakes and dramatic mountain ranges. And it is here, on a flat ridge high in the forest, that Sanctuary's Gorilla Forest Camp is tucked away. This is the ideal base for encounters with the mountain gorillas that live in Bwindi.
WHY GORILLA FOREST CAMP
Frequently visited by gorilla families due to its unique location
Exclusive camp with only eight rooms, the perfect base for a once in a lifetime trip to track mountain gorillas
Opportunity for community interaction, including the local Batwa Pygmies
Specially customised sedan chairs with support and harness allows less able guests to be carried into the rainforest to track the gorillas in their natural habitat
An established philanthropy project at Bwindi Community Hospital which guests can visit
Located within Bwindi National Park, Sanctuary Gorilla Forest Camp offers guests an unrivalled location, including the best bird and wildlife viewing in the Bwindi area.
REMOTE AND ATMOSPHERIC
As the only concessionaire luxury camp within Bwindi Impenetrable Forest, Sanctuary Gorilla Forest Camp is the perfect base from which to track the park's most famous resident – the mountain gorilla. The main area features a comfotable lounge and bar area as well as the main dining area while the mini spa offers a wide selection of treatments. Located within the National Park, Sanctuary Gorilla Forest Camp offers guests an unrivalled location, including the best bird and wildlife viewing in the Bwindi area. In fact Sanctuary Gorilla Forest Camp often receives regular visits from the gorillas themselves. For the lucky guests in camp at those times, they may have the chance for a gorilla encounter without even leaving Sanctuary Gorilla Forest Camp.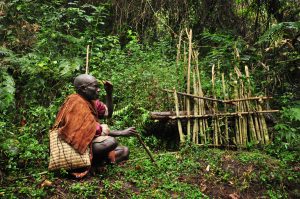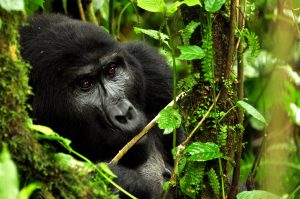 RELAX IN THE RAINFOREST
The eight tents at Sanctuary Gorilla Forest Camp are stylish and spacious, each featuring two queen sized beds. In addition to the comfortable warm beds, each tent has a huge bathtub that looks straight into the jungle canopy ideal for soaking tired muscles after a day spent observing and meeting gorillas. Observe rare forest species while soaking in the tub, followed by a cocktail on the private viewing deck served by your personal attendant.
 Sanctuary Gorilla Forest Camp prides itself in the personalised service we are able to offer our guests. Please let us know if you have any special requests and or dietary requirements.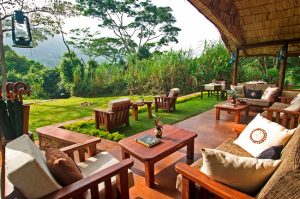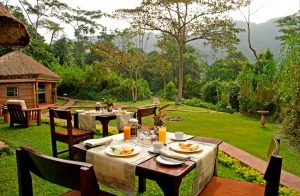 SILVER SERVICE
The bar and dining cottage overlooks the rainforest and a raised natural platform is built for open air-dining. A full English and continental breakfast is served before your morning activity. Trekking gorilla's today? The camp will pack you a scrumptious lunch including fresh fruit, sweet and savoury delights to take with you. Once back at the camp celebratory drinks and snacks will be served under the stars by the roaring campfire as you discuss your amazing adventure. All meals are à la carte and served in the bar and dining area overlooking the rainforest. Chef Jackson serves a silver service dinner with four to five courses each evening. One of the mains might even include his favourite dish – Matooke rolled chicken with creamed spinach and ground nut sauce. Celebrating a special occasion? We are able to offer romantic private dinners.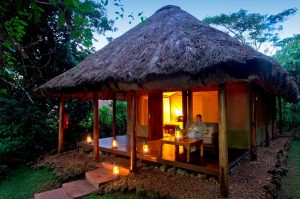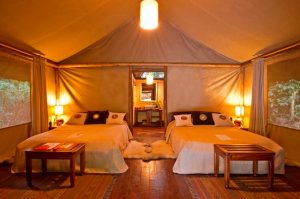 The camp has an airstrip 75 minutes away where most guests arrive, but can also be reached by car in ten hours from Kampala.
Private charter flights depart daily from Entebbe to Kihihi airstrip (about a 2 hour flight depending on stops). The journey from Kihihi Airstrip takes around 1 hour 15 mins.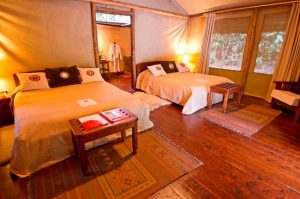 WILDLIFE
The area around Sanctuary Gorilla Forest Camp is filled with cheeky L'Hoest's monkeys. Recently we have had lots of these curious monkeys coming into camp to have a good look at their hairless neighbours. From visiting at dinner time to watching guests in the lounge, these cheeky monkeys are very entertaining.
With over 350 bird species filling the Bwindi Impenetrable Forest, guests have enjoyed numerous wonderful bird sightings both in and out of the camp. A particular favourite among the guests has been the ornately feathered Crested Crane. Walking with such grace and beauty, it is a pleasure to watch.
Guests have been lucky enough to meet Kanyonyi, the dominant silverback in the Mubare family. He has gained a bit of a reputation around the area due to his ambitious expansion plans. Having had various run-ins with other families, several kidnappings (and a few rescues), he is definitely one of our favourite personalities!
Due to Sanctuary Gorilla Forest Camp's perfect location within the grounds of Bwindi Impenetrable Forest, guests at camp are quite often treated to unexpected visitors; the gorillas! Recently we had a troop of mountain gorillas come along the road leading up to the camp. What a delight!
There have been many sightings of Black and White Colobus monkeys from guests both in the camp and on forest walks.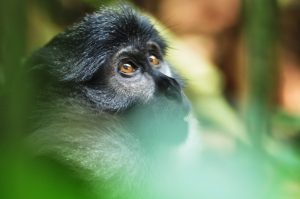 AT A GLANCE' ITINERARY
3 April
2019
Arrival Entebbe Transfer Protea Hotel
4 April
Fly to Bwindi National Park Sanctuary Gorilla Forest Camp
Delux Tents
B- L – D
5 April
2019
Bwindi National Park
Gorilla Trek
Sanctuary Gorilla Forest Camp
Delux Tents
B- L – D
6 April
2019
Bwindi National Park
Gorilla Trek
Sanctuary Gorilla Forest Camp
Delux Tents
B- L – D
7 April
2019
Fly back & then connect to
Nairobi- Sun Arrival Transfer
Eka Hotel
8 April
2019
Fly to the Maasai Mara
Game drives
Sanctuary Olonana Camp
12 April
2019
 Fly to Nairobi and then
depart Home
INCLUSIONS
  Accommodation
  Three meals daily (depending on arrival and departure times)
  Soft drinks, house wines, local brand spirits and beers
  Teas and coffees
  Refreshments while on game viewing drives
  Laundry
  Park fees
  Nature walk, Masai village visit, sundowners and game drives from Sanctuary Olonana
  Sundowners and bush meals (weather permitting)
  One Gorilla permit per person (subject to change without notice)
  Nature walk or a Batwa Pigmy village visit at Sanctuary Gorilla Forest Camp
  Transfers and airstrip transfers as stated in itinerary
  Sceduled flights from Nairobi to Mara to Nairobi to Entebbe, and from to Entebbe to Kahihi airstrip return.

EXCLUSIONS
  Items of a personal nature i.e. Gratuities; premium brand beverages; curios; telephone accounts etc.
  Visas and travel insurances
  Bank charges
  Any other item not mentioned above
  All optional excursions or activities i.e. spa treatments
  Balloon excursion and fishing excursion at Sanctuary Olonana PLEASE NOTE
  This package is based on scheduled flights from Nairobi to the Mara to Nairobi to Entebbe to Kihihi and back to Entebbe.
  Luggage is restricted to 15kg per person in a soft sided bag.
Visa Information. Visa's are required for US passport holders at both Kenya and Uganda.
Kenya    https://www.kenyaimmigration.org/faq/how-it-works
Uganda https://travel.state.gov/content/passports/en/country/uganda.html
Rick Sammon Safari
$9699.00 per person Double Occupancy. $10699.00 Single,
09 nights 10 Days
Depart USA  April 2nd 2019
Arrive Entebbe  April 3rd 2019
Overnight Entebbe April 3rd 2019. .
April 4th, 3 nights Bwindi, Gorilla Trek
April 7th Overnighti Nairobi
April 8-11 Maasai Mara Safari,
April 12th Nairobi USA Depart  Arrival USA April 13th
Whats Included in most Safaris
Accommodation at main lodge safari camp / Beverages / Meals / Game Drives / Drinks and Snacks on Game Drives / Transportation to and from Village, Lodge, and Airport.
Extra Charges on Most Safaris
Alcohol, Sodas, Bottled water / Laundry Services / Accommodations and food before and after Safari commencement / Air Transport to and from Africa / Air Transport between safari camps if there is more than one camp /Park Fees /  Gifts and curios .
SaveSave
SaveSave