African Safaris
505-401-2988

Rick Sammon Okavango Delta Botswana Safari photography workshop 2018
Okavango Delta, Botswana,  Combo Safari photography workshop with Rick Sammon April 5-16 2018
This safari is now full.  Please call 505-401-2988 to be placed on our waitlist in the case of a cancelation.
April 5-16 2018

Your African Safari
A limited seating Safari and will fill up fast. Call 505-401-2988
A full African Safari that takes place in one of the most beautiful safari areas in Botswana.  Open safari vehicles are used  to give you the full experience of African wildlife up close and personal. This is a unique and amazing opportunity to experience Africa in a way that very few people get to do with Rick Sammon. Kevin Dooley will also be available to assist with wildlife photography techniques.
Award-winning photographer Rick Sammon loves his day job. A tireless, prolific and inspirational image-maker, Rick, called by some "The Godfather of Photography," is one of the most active photographers on the planet – dividing his time between creating images, leading photo workshops, and making personal appearances. Rick's enthusiasm for digital imaging is contagious. He is a man on a mission – a mission to make digital photography fun, creative, exciting and rewarding for others.
What You'll Learn from Rick
Wildlife Photography, Landscape and People Photography Techniques
Getting the Best In-Camera Exposure
Composition Techniques
Image Processing in Photoshop and Lightroom
Storytelling
Low-light photography
Fill-in flash photography
Your Safari Hosts. Kevin and Tricia Dooley
Kevin and Tricia Dooley have been leading safaris for many years. Tricia Dooley was born in South Africa, speaks several languages, and is an expert on the local knowledge and flavor. Kevin Dooley is a professional wildlife Photographer as well as a wedding and portrait photographer. Kevin is also a tested and certified wildlife guide through the filed guides association of Southern Africa.
Your First Night in South Africa.
You will most likely be arriving at approximitly 5:30 PM. Delta Airlines has a non stop flight from Atlanta to Johannesburg. We will pick you up at the Airport in Johannesburg, Please make sure to forward us your flight information. We prefer to work closley with each safari member to make sure that all the flight bookings are correct, Please check with us when making your flight reservations. On your arrival evening in Johannesburg you will need to secure a hotel room. We recommend the Emperors Palace Peermont Metcourt which is only approximately 5 min from the Johannesburg airport. This is at your expense and not included in this safaris price. Our Tours normally depart from this location at approximately 8:30 AM on the Beginning day of your Safari. Link to the Metcourt  http://www.emperorspalace.com/hotels/peermont-metcourt-hotel. Please note all hotel and meal expenses before and after the safari are at your expense.
Day 2
Flight from Johannesburg South Africa to Maun Botswana. (This is a commercial airline flight, not a bush plane. We can not make this reservation for you. However we will be glad to assist as much as possible. This flight is at an additional cost. This Flight from Johannesburg to Maun Botswana and the return to Johannesburg is Not included in Safari cost.
Transport by small plane to our Safari Camp. Included in Safari Cost.
During low water levels, the driving journey to the camp from the airstrip will take approximately 20 minutes. During higher water levels, there will be a 50 minute boat transfer followed by a five minute road transfer to the camp. The camp is accessible by air from Maun (15 minutes). Please note that the luggage restriction is 20kg per person in a soft-sided bag.
Camp One . Sanctuary Stanley's Camp. Three Nights
Set among ebony and sausage trees, Sanctuary Stanley's Camp is located on a 260,000 acre private concession bordering the Moremi Game Reserve. The natural wonders of the area constantly change over the seasons from lush green when the rain flows down the Angolan highlands, to dry savannah when the neighbouring Kalahari Desert tightens its grip on the terrain. The camp is the home of our unique Living with Elephants interaction. Walking with a trio of orphaned elephants is an uplifting experience and one that will remain with you long after you've left.
Sanctuary Stanley's Camp is built on a 260,000 acre private concession in the renowned Okavango Delta. This traditional safari camp has a large lounge area and dining area with incredible views over the floodplains in front of camp. The main area features a bar from where refreshing drinks are always served with a smile, a small library area and curio shop. From the swimming pool – a real treat after a hot day of game viewing – guests can watch giraffe and other plains game march across the savannah and sometimes catch a glimpse of rare wild dogs. Everything about Sanctuary Stanley's Camp is built to the highest ecological standards so that we don't damage this highly sensitive area.
The intimate camp features only eight safari canvas tents, each individually designed, furnished with African antiques that exude a classic and understated elegance that harks back to the explorers and colonialists of the 19th century. Each tent has a large wooden deck providing private areas where you can relax in a hammock while soaking in the surrounding sights and sounds or enjoy cocktails, before dinner is served in the spectacular dining mess.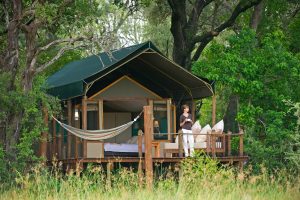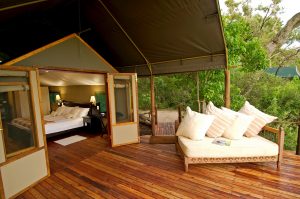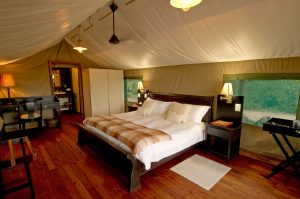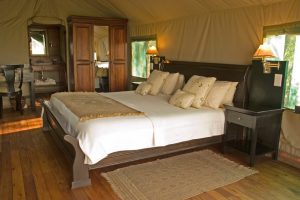 Wake up to the smell of freshly brewed coffee before indulging in a full English and continental breakfast before departing for your morning game viewing activity which could be a game drive, walking safari, mokoro excursion. If you decide to experience our unique elephant interaction activity you will enjoy a secluded bush brunch in the company of these three gentle giants, Jabu, Morula and Thembi – how many people can say they've had lunch with elephants in the bush? Afternoon tea is served just before your next game viewing activity and includes a delicious selection of warm scones, quiche's, biscuits and refreshing drinks. During your afternoon game viewing activity you might stop for sundowner drinks and snacks before heading back to camp for pre-dinner drinks and a three course dinner. If you are celebrating a special occasion we could arrange a special romantic private dinner right under the African sky.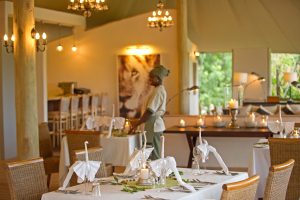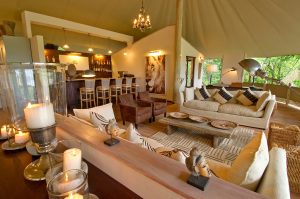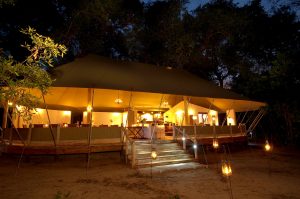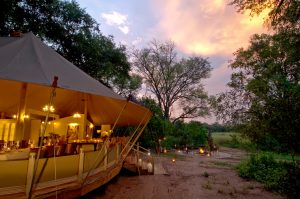 With abundant wildlife roaming the area and several active hyena dens close to the camp, game viewing at Sanctuary Stanley's Camp allows for an exclusive experience.
The Delta has an extraordinary concentration of wildlife, boasting vast congregations of elephant and buffalo, sightings of big cat predators, and even the endangered wild dog. Water crossings are part of the adventure and watching zebra standing belly-deep grazing is quite a sight to see. Venture out after dark on night game drives to catch a glimpse of the nocturnal animals like the bush baby, hyena and leopard.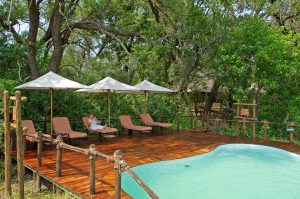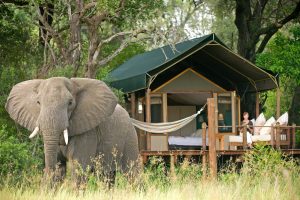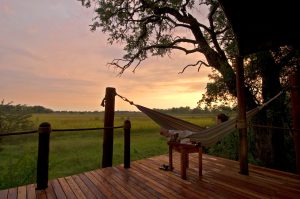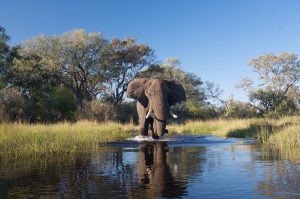 Camp Two . Sanctuary Chief's Camp. Four Nights
We are delight Sanctuary Chief's Camp. Renowned for its exceptional levels of service and customer experience, This exclusive camp is consistently rated as one of the top safari camps in Botswana. It is located on Chief's Island in the Mombo Concession of the famous Moremi Game Reserve in the Okavango Delta, an area known as the 'predator capital of Africa. We look forward to welcoming guests to the new-look camp from June 2016.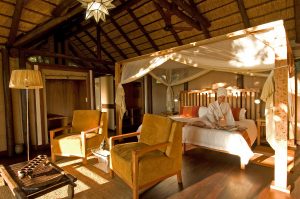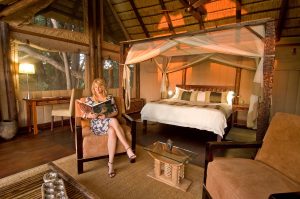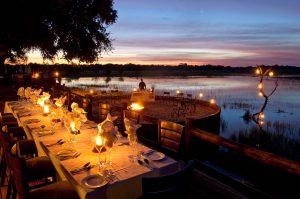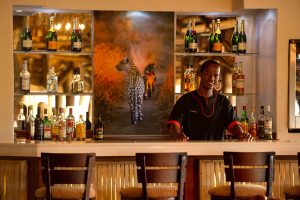 Named after Chief Moremi, Sanctuary Chief's Camp is located in the world-renowned Moremi Game Reserve. The luxurious camp is ideal for an exciting African safari due to the vast numbers of animals that congregate all year round. Chief's Island is one of the many islands created by the seasonal flood waters of the Okavango Delta and is well-known for the finest game viewing in Southern Africa. With the finest cuisine and wines, the camp is also consistently rated as one of the top safari camps in Botswana by Condé Nast and Travel & Leisure.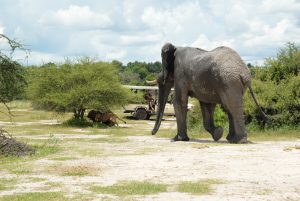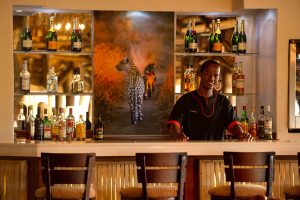 As the predator capital of the world, the game viewing is awe-inspiring. But apart from its predators, the Moremi is also renowned for its large concentrations of plains-game, elephant and buffalo. You will also no doubt see giraffe, impala and zebra. Endangered wild dog also make this area their home. Several lion prides as well as genet cats and hyena also live in abundance here. Like the rest of the Okavango Delta, the area is a paradise for bird lovers, with over 500 species.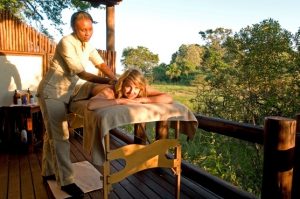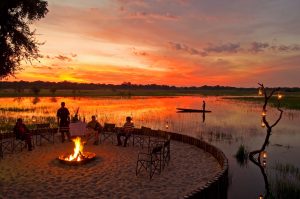 THE PREDATOR CAPITAL OF AFRICA

A World Heritage Site at the southern edge of the Great Rift Valley, the Okavango Delta is a spectacular patchwork of clear streams, sparkling lagoons, dramatic floodplains, and thriving forests. As well as a staggering topography, this scenic 22,000 square kilometre sprawl is also teeming with thousands of species of exceptional flora and fascinating fauna for you to observe at close range any time of year.

Breath-stealing UNESCO-protected nature in the fulcrum of the Okavango Delta, Sanctuary Chief's Camp promises unsurpassed beauty care of the exclusive Mombo Concession on Chief's Island in the biodiverse Moremi Game Reserve. Historically this expanse was the hunting grounds of the great Batawana chiefs – now it's a unique reserve which promises the most incredible safari adventures for discerning travellers.

This compelling destination is celebrated for its wealth of animals and birds and you're invited to spy elephant, hippo, lion, giraffe, rhino, cheetah, leopard, wildebeest, impala and rare African painted dogs, the most endangered predator in southern Africa – all in one day, and all to yourselves. Guests tell us they feel as though they're the first to explore this magical terrain, which gives you the rare sense that you're the only ones there on safari.

"Chief's Camp is one of Botswana's most luxurious safari camps and is impossibly spoiling. Everything here is perfect and that goes for the game viewing too. Chief's Island is perhaps one of the most famous game viewing destinations in Africa." – A Luxury Travel Blog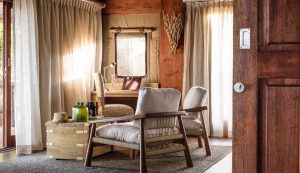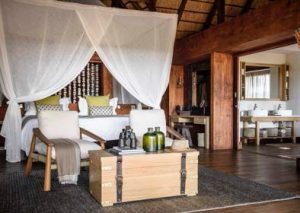 SPA & NEW FITNESS CENTRE
A range of spa treatments are available from the spa treatment room. Everything about the camp and treatment room is environmentally friendly, including the Africology spa treatment range used. Choose from a range of facial skin care treatments such as the balancing rose facial, Body therapies include an African heated stone massage and our body rituals include a tropical immune boosting mud body wrap. The perfect way to end a day of spectacular game viewing. The new fitness centre includes:
Treadmill
Exercise bike
Rowing machine
Weights
Yoga equipment

SPA PRODUCTS

AfricologyTM uses healing essences of some of South Africa's indigenous plants,
Rooibos, Aloe Ferox, Marula and African Potato. They are a natural, organic range,
chemical free and allow nature to fragrance their products naturally and select actives that bring balance and harmony to the skin. They practice fair trade and show a great social responsibility to empowering the people of Africa. They are dermalogically tested to EU standards, not tested on animals or use any animal products.
THALGO is the prestigious French marine-based spa health & product range by drawing on the remarkable potential of algae, and focusing on natural ingredients that are most adapted to the human body, THALGO is able to offer effective and safe products with exceptional results.

GAME DRIVES

Our expert guides are always on hand to share their wealth of wildlife knowledge as you explore the Delta in modified open 4 x 4 vehicles on morning and afternoon game drives. The game viewing opportunities at Sanctuary Chief's Camp are awe-inspiring. On the plains one may find the roaming lions that prey on the thousands of antelope, zebra and buffalo who live here all year round. There are also healthy populations of wild dog. These extremely rare predators have been hunted to the point of extinction in most areas of Africa and this is one of their last strongholds. There are several local lion prides and leopards, genet cats and hyena are in abundance.

                  

Your Safari and Photography Workshop
Below is a general outline of our daily schedule while on Safari: All Activities are optional, The camp is a great place to just relax and enjoy nature.
5:30 AM Wake Up 6:00 AM Tea/Coffee/ Snacks
6:30 AM Leave on Safari
10:00 AM Return from Safari
10;15 AM Full Breakfast
11:30 AM Photography Workshop Session
1:30 PM Lunch
(NOTE)  Depending on what time we get back from the morning game drive,  we sometimes combine Breakfast and lunch into a brunch.
3:30 PM High Tea
3:45 PM Leave on Safari
Return at Dark
8PM Full Dinner, time by the fire, and bed time
Safari Vehicles and Nature Guides:  No big buses, we will be together as a private group. Kevin and or Tricia will be with you for your Safari. With Idube Photo Safaris, you will experience the fun and excitement of wildlife viewing and photography from a outfitted 4-wheel drive safari vehicle.  We will help with setting up your gear to photograph wildlife and will make suggestions on camera gear and camera mounts and support. You will normally have two game drives a day,(weather permitting, normally there will only be one game drive on lodge arrival and departure days). Game Drives last approximately three to four hours each. We Do our Game Drives during the best times of the day for wildlife activities and photographic lighting. You have the option to join us on all our game drives or to skip a game drive and just relax around the lodge. Our Game Drive vehicles are equipped with a spot light for night time viewing, giving us the opportunity to spot and locate nocturnal species as well as experience the behavior differences between daytime and nighttime activity. Radios for communication with the lodge and other safari vehicles, as well as blankets and ponchos, and water and snacks are kept on the vehicles to provide warmth and comfort in the early mornings and evenings. Your guide will have expert knowledge about the area, the wildlife you will be experiencing and photographing. The guides will also be answering questions and sharing information about the wildlife, the flora, and the culture. Because our groups all have a common interest, we can tailor the game drives to the majority of our interests.
 Wildlife Viewing: Our wildlife areas are huge and have a very large diversity of Animal life, Bird life, Plant life, and Geology. We may choose to focus on predators (lions, hyenas, cheetahs, and leopards), or the large herbivores (elephants, giraffes, rhinos, zebra, and wildebeest ) however we never know what we might come across while out in the African bush. We do share radio calls and work with other Safari Vehicles in the area, working together to locate the best wildlife sightings. In addition to looking for wildlife, we stop in the mornings for coffee and muffins, and in the evening for sundowners and snacks.
 Your Hosts: Kevin and or Tricia will be with you for your Safari. We will provide a meet and greet at the airport, as well as be with you to help with everything on your Safari. Kevin Dooley is a qualified FGASA nature guide and professional wildlife and portrait/wedding photographer. The advantages of having a professional photographer and wildlife guide with you on safari are many. With the knowledge of photography, the passion of getting just the right image and lighting, and the training in locating wildlife and understand their behavior is a big bonus to have on safari. Tricia Dooley is South African and is from South Africa. Tricia has a great knowledge of the country, its people, and the advantage of knowing the roads and directions to great places to visit and see. Tricia also has the advantage of communicating and understanding the local people.
Rick Sammon Safari
$7799.00 per person Double Occupancy. $8999.00 Single,
09 nights 10 Days
Depart USA  April 5th  2018
Arrive Johannesburg  April 6th 2018
Emperors Palace April 6th 2018
Flight to Maun Botswana  April 7th  
Stanley's and Chief's Camps Safari April 7th-14th 
Flight back to Johannesburg  April 14th
USA Arrival April 16th
"The Predator Capital"
Whats Included in most Safaris
Accommodation at main lodge safari camp / Beverages / Meals / Game Drives / Drinks and Snacks on Game Drives / Transportation to and from Village, Lodge, and Airport.
Extra Charges on Most Safaris
Alcohol, Sodas, Bottled water / Laundry Services / Accommodations and food before and after Safari commencement / Air Transport to and from Africa / Air Transport between safari camps if there is more than one camp /Park Fees /  Gifts and curios .
[gallery_bank type="images" format="thumbnail" title="false" desc="false" responsive="true" special_effect="overlay_fade-white" animation_effect="bounce" album_title="true" album_id="19″]
SaveSave
SaveSave