African Safaris
505-401-2988

Patagonia Pumas, Condors and Landscapes with Kevin Dooley
The Ultimate Patagonia safari
Patagonia Pumas, Condors and Landscapes with Kevin Dooley.
December 8-19 2018  Call now to reserve 505-401-2988
Join Rick Sammon and Kevin Dooley on this amazing adventure. A combination of both wildlife and landscape photography.
When I was putting together this safari, I knew there were some absolute places we needed to visit, putting all these amazing experiences into one fantastic tour was a feat in itself. However I think we have put together the ultimate Patagonia tour. Pumas, Condors, exquisite landscapes, gourmet food, and Gaucho cowboys. Beautiful accommodations and wonderful guides are also a big part of this amazing journey. We have put a lot of time and effort into creating this journey and we are excited to welcome our guests.
 Patagonia Combination Safari: The Definitive Experience Safari Dec 8th – December 19th 2018
This will fill fast.
 Please call to reserve . 505-401-2988
Your Safari Hosts. Kevin and Tricia Dooley
Kevin and Tricia Dooley have been leading safaris for many years. Tricia Dooley was born in South Africa, speaks several languages, and is an expert on the local knowledge and flavor. Kevin Dooley is a professional wildlife Photographer as well as a wedding and portrait photographer. Kevin is also a tested and certified wildlife guide through the filed guides association of Southern Africa.
Welcome to Chile!
Chile is a country of contrasts and striking beauty that offers an enviable combination of tourist security, natural wonders, and excellent services, making for the splendid journey or great adventure. The longest and narrowest country in the continent, with a length of 2,700 miles and an average width of only 120 miles, Chile has a strong economy, a solid infrastructure, and a long tradition of democratic government. Chile is unique as it is the most southerly nation in the world and is separated from its neighbors by natural barriers. It is bordered in the north by one of the most arid deserts in the world; to the east, one of the greatest mountain ranges of the planet, the Andes, with heights close to 23,000 feet; to the west, the Pacific Ocean opens out; to the south, the Drake Sea and Antarctic Ice. Due to these natural barriers and extremes of nature, Chile enjoys a diversity not found elsewhere on the planet. It is this diversity with the heat of the deserts in the north, and the cold of the glaciers in the south that makes Chile known as the Land of Fire and Ice!
Upon arrival to Santiago International Airport we will be met by a local representative who will assist you in collecting your luggage and passing through custom procedures before escorting you on a private transfer to Cumbres Lastarria hotel, pre-registered for immediate occupancy.
Nestled in the historic Lastarria district, encircled by fashionable restaurants, museums, galleries, upscale stores, antique shops and theaters, Cumbres Lastarria boutique hotel offers an intimate accommodation with just 70 rooms and suites. Unwind in the fashionable lobby bar or savor creative cuisine and marvelous city views from the eighth-floor restaurant, Punto Ocho. The hotel also features a fully-equipped gym and a seasonal outdoor pool.
Dinner at Casa Lastarria restaurant including beverages
In the afternoon you will enjoy a Santiago Walking tour. No matter which way you turn, walking the streets and neighborhoods of Santiago leaves you awed by its architecture and inspired by the art and culture. This four hour walking tour starts at the nearest metro station and our first stop will put us right in front of the presidential palace, La Moneda. From La Moneda we'll pause in front of the historical yet still relevant Court of Justice, National Congress and former Customs (now the Pre-Colombian Art Museum) to reach the Plaza de Armas. As the heart of the city, dating back to the Spanish conquerors, this is where you'll find the Cathedral, City Hall, Central Post Office and National Historical Museum. In the plaza you'll see artists at work, various chess games and possibly a dance performance. Your tour will continue to the colorful and typical market of Santiago "Mercado Central". This is the place where many Santiaguinos do their normal shops, full of fresh vegetable, fruits, fish and selfish. Take a walk inside to appreciate the beautiful French architecture of the market. After this visit, continue to Lastarria neighborhood to explore by foot this peaceful area of the city which has a lively atmosphere due to the vicinity of Fine Arts Museum, built on neoclassical style and the pleasant "Forestal" riverside park. A stop will be made in this area at one of the traditional local café to enjoy an ice cream or delicious coffee.
In the evening you will have a pairing menu at Restaurant Casa Lastarria located walking distance from your hotel.
 Day 2
Buffet breakfast included
Santiago-Punta Arenas-Puerto Natales
Our Local guide will meet us at the lobby of the hotel who will assist with luggage collection and Check out procedures before continue to Santiago international airport to board our onward flight.
Flight from Santiago to Punta Arenas (Air ticket is not included).
Arrival to Punta Arenas airport, where our representative will meet us and transfer us to
Estancia Olga Teresa.
At the Estancia, you will board 4WD cars to drive 7 km up the hill to the top—a 500-foot hill—the Cerro Palomares ("Palomares Hill"). Once at the top, you walk down a 400-m-long path until you reach a series of 2-3-meter-wide, flat, rock ledges. From these comfortable perches, you will be able to set up your tripods and long lenses or use smart phones or the excellent point-and-shoot cameras that now exist to photograph many Andean Condors. If we were really lucky we might even may feast your eyes on over a hundred of them. Normally, we have several hundred "fly-bys" of these massive birds below the horizon…allowing you to take "the hero shot" of Andean Condors photographed from above.
WE spend the afternoon there until sunset seeing these magnificent creatures fly back and forth. Then drive for 25 min back down from the top in the 4wd cars and then change to your minibus and drive 2-2.5 h to Puerto Natales.
Traditional Barbeque Lamb Lunch at Estancia Olga Teresa After lunch transfer to the Singular hotel in Puerto Natales Dinner at the hotel
DAY 3
Buffet breakfast included
At proper time, our guide or guides (we might convert one of the two local guides into a puma tracker for the first half of the day or until the time your group arrives to Pumaland in the afternoon) will meet you at your hotel in Puerto Natales and will transfer you to Torres del Paine.
Arrival to Tierra Patagonia Hotel. Detailed briefing and training of your guests by our chief Puma guide. The briefing will describe and even do some role-playing practice of safety procedures and conservation considerations that are essential when tracking and walking with wild, unconfined Pumas.
Lunch at the hotel.
In the afternoon, we will start out Puma search—three to five hours in the field. – we join our trackers whom have already been looking for Pumas from you since dawn.
Dinner at the hotel
DAY 4 and 5
Buffet breakfast included
Our guide or guides (we might have one guide tracking early) will pick you up from the hotel and will transfer you to Pumaland to start the Puma search. This morning you will have three to five hours searching for Pumas, then return to the hotel.
Lunch at the hotel
In the middle of the afternoon, we return to the search of Pumas for another 3-4 hours. Dinner at the hotel
Day 6
Buffet breakfast included
Transfer from Tierra Patagonia Hotel to El Calafate. (With a local guide included)
Distances:
From Tierra Patagonia Hotel to El Calafate: 250 Km / 4.5-6 hours (Depending on how long it would take you to carry out the immigration and customs procedures at each of the two posts—first the Chilean post at Cerro Castillo and then the Argentinian post at Cancha Carrera. Normally each post takes from 20-35 min.
Transfer from Cancha Carrera to Eolo Hotel (three-hour drive).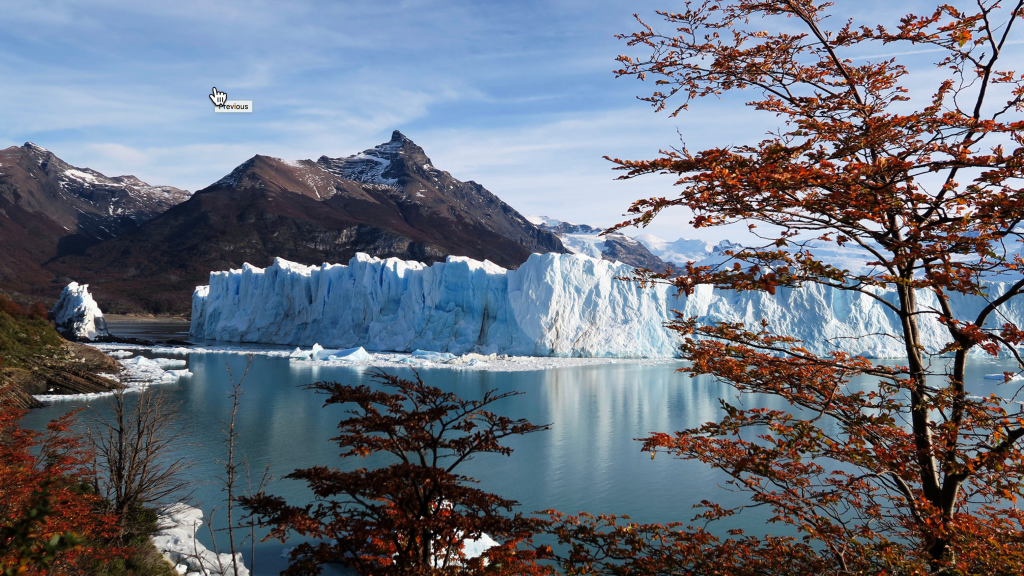 Welcome to El Calafate
A charming village on the banks of Lake Argentino, El Calafate is the gateway to Los Glaciares National Park. Named after a Patagonian bush, according to legend, whoever eats its berries always returns to Patagonia. At 2,600 km (1,715) miles from Buenos Aires and about 200 m.a.s.l. (600 feet), picturesque streets are surrounded by beautiful trees and colorful gardens that make this village an oasis in the middle of the barren Patagonian landscape.
Perito Moreno Glacier, the area's main attraction, is one of the few remaining advancing glaciers in the world, currently grinding its way down the Andes range into a branch of the enormous Lake Argentino. Every few years the glacier cuts off the flow of water into the lake, resulting in an immense accumulation of pressure as the water behind the glacier rises.
Eolo is a unique place that embodies the spirit of Patagonia: its indigenous roots, the personal experiences of the first Europeans and Criollo settlers and those of the adventurers of all over the world that still today reach this legendary land. It is a country lodge, comfortable and spacious like the ancient Patagonian estancias, but benefiting from the modern comfort. The lodge is compound by 17 suites with different views. The facilities at the lodge include a bar and restaurant, a library, a TV room and an indoor swimming pool and sauna. It is located thirty minutes away from El Calafate, on the way to Perito Moreno Glacier, and it stretches over a 3,000 hectare property. From its ample and comfortable facilities one can observe Lago Argentino towards the north, La Anita Valley towards the east, and the Torres del Paine and the Rico branch of the same lake towards the south.
 Day 7
Buffet breakfast included
During a full-day excursion to see Perito Moreno glacier, travel across the Patagonian steppe and the Patagonian Andean Forest, seeing the distinctive notro tree with intense red flowers, and arrive at the walkways in front of the glacier, which forms the source basin of Argentina and Chile glaciers. Walk the footbridges to catch majestic views and hear the cracks and roars of the incredible living mass that is Perito Moreno. With a five-km long (three mile) front wall, soaring 60 meters (180 feet) above the lake level and a 257-square kilometer (99 miles squared) ice field surface, it's currently grinding its way down the mountains directly into an arm of the enormous Lake Argentino.
Enjoy a mini trek experience over its millenarian ice field, beginning at the pier in Bajo de las Sombras port. Embark for a 20-minute group navigation across the Rico Arm, enjoying breathtaking views of the Perito Moreno glacier's front wall. You will disembark on the opposite shore, where bilingual mountain guides welcome you and lead you to a small shelter. Small groups of not more than 20 follow guides along the lake's shore towards the edge of the glacier. Once on the ice guides help you to put on a pair of crampons and explain how to use them. The following two-hour circuit introduces you to the fascinating landscape of the glaciers: streams, small lagoons, gullies, crevasses, and plenty of ice formations of the most incredible blues. Trekking is moderate. The ice surface you walk over is irregular, but firm and safe. This activity is available for those aged between 10 and 65 and due to the degree of effort and difficulty this excursion presents, pregnant women, overweight people, some type of disability, or health problems are NOT allowed to participate.
Difficulty: Medium
Not available for:
-Pregnant women
-Minors under 10 years or adults over 65 according to travel agency regulations
-People with any degree of mental or mobility problems which can affect their attention or coordination.
-People with respiratory problems (COPD, asthma, emphysema, etc )
-Anyone out of the above mentioned age group.
-People with overweight: when weight exceeds twice their height in centimeters less 100. (eg: For a height of 1.70m: 170 minus 100 = 70 x 2 = 140 kilos).
-People suffering central or peripheral cardiovascular diseases: their heart or vessel capabilities are diminished, have stents, pacemakers and other prosthesis devises (Eg: medicated with anticoagulants, grade III varicose, cardiac arrhythmias)
-Those wearing less than a ladies size 5 shoes (or European size 35) as there are no crampons available this size.
Day 8
Located in the heart of the Los Glaciares National Park, enjoy a half-day private excursion to Estancia Nibepo Aike ranch combining local history and nature. Formerly devoted to raising sheep, Nibepo Aike is now the area's most prestigious Hereford breeder. With all the remnants of the boom times of wool production, it's an ideal place to witness a day in the life of an authentic Patagonian ranch. On arrival at the ranch after your private transfer, you are welcomed by the host with mate (yerba mate tea), tea and coffee with homemade biscuits at the foot of a wonderful view of the Andes range. Enjoy a walk in the southern area of Lago Argentino lake, viewing past exposed rock outcrops eroded by glacial action and changes in the lake levels where you can clearly see the folds of the earth's crust differentiated by the variety of sediments that originated them. These formations continue until you reach the point where the rocks form a natural amphitheater, giving place to calm beaches of curious shapes. Following a path, you discover a forest of beech and nires trees, home to owls, Austral parakeets, rabbits, woodpeckers, eagles and a rich variety of flora and fauna. Returning to the main house to enjoy watching gaucho skills on horseback and a manual sheep-shearing demonstration accompanied by a talk about the classification and wool wrapping. These activities are subject to weather conditions. A tour of the house and barns includes anecdotes about early settlers. After visiting the organic garden, enjoy a meal in the quincho (enclosed barbecue room) of Patagonian roast lamb with fresh salads from the orchard. OPTIONAL: This excursion can include horseback riding to Cristal Hill (one hour), which offers an excellent alternative to explore the ranch accompanied by a rural guide.
Transfer from Eolo Hotel to El Calafate airport (FTE) (60-minute drive) where your local host assists you with your flight check-in.
Upon arrival at Buenos Aires Jorge Newbery local airport (AEP), you will be met by your local guide and a private vehicle to drive you to your hotel.
Situated in the heart of Buenos Aires' exclusive La Recoleta district, Four Seasons Hotel Buenos Aires is within easy reach of the capital's business and cultural attractions.
It offers 116 spacious guest rooms and 49 luxury suites, including 7 one-of-a-kind suites in the adjacent Belle Epoque-style mansion. Warm, comfortable tower accommodations feature leather upholstered headboards and dark mahogany furnishings. Suites in La Mansion offer French country decor, dramatic high ceilings and Toile de Jouy wallpaper, as well as a rich, romantic history. Preferred Rooms and Suites on the seventh and eighth floors of the Hotel tower enjoy complimentary access to the Library, an exclusive lounge that provides a selection of international newspapers and magazines, complimentary Internet access and complimentary non-alcoholic beverages, including coffee. The Spa at Four Seasons Hotel Buenos Aires offers a full range of massages and spa treatments based on the Germain de Capuccini natural product line – designed to relax, detoxify and harmonize the body. Enjoy contemporary Argentinean cuisine prepared with Mediterranean flair in the casually elegant Elena at Four Seasons Hotel Buenos Aires. The adjacent split-level bar called Pony Line, features premium cocktails, top Argentine wines and a selection of fine teas.
Day 9
Buffet breakfast included
Explore the highlights of the "Paris of South America" in a city tour escorted by one of our experienced representatives who will introduce you to the history and culture of this magnificent city. The tour will include the historical areas of Buenos Aires: Plaza de Mayo, the political heart of the city, laid out by Don Juan de Garay in 1580 during the second founding of Buenos Aires. You will also pass through San Telmo neighborhood, with its cobblestoned streets, where the original porteños settled in the early days. Continue to La Boca, the colorful working class port neighborhood, and walk along Caminito Street, where local artists display their artwork at the tunes of Tango being performed on the street. Pass through Puerto Madero and see this new area where redbrick warehouses were transformed into trendy restaurants and bars. Finally you will visit Recoleta and its world famous cemetery and see the mausoleums of the most important personalities of the Argentine history.
Dinner & Tango Show at Café de los Angelitos. VIP seating will be specially arranged. Cafe de los Angelitos is a living witness to more than one hundred years of history in Buenos Aires. The most outstanding personalities of the political and artistic environment of the twentieth century have paraded through the door and at their tables were written thousands of pages that have made Buenos Aires a city that breathes tango in every corner. Revamped as an ambitious architectural project, consisting of two floors and a basement, display luxury and distinction even in its most insignificant details Cafe de los Angelitos offers a tango show of impressive luxury, executed by an excellent orchestra of six musicians, two singers and twelve dancers who, for one hour and twenty minutes, deploy on an impressive show unique in its kind. After the show drive back to the hotel
Day 10
In due time; transfer from your hotel to the international airport Buenos Aires Ezeiza, local guide and a private vehicle.
Ultimate Patagonia Safari
09 nights 10 Days
Depart USA  December 8th  2018
Arrive Santiago December 9th 2018
Hotel Cumbers Lastarria December 9th 2018
Tour Dec 9-Dec 17th 2018
Airport Buenos Aires December 18th 2018
USA Arrival December 19th  2018
Whats Included in most Safaris
Accommodation once your Safari commences / Food, Tap Water, Tea and Coffee / Game Drives / Drinks and Snacks on Game Drives / Transportation to and from destanation Airport / Village Visit.
Extra Charges on Most Safaris
Beverages other than Tap Water, Coffee and Tea / Internet Charges / Accommodations and food before and after Safari commencement / Laundry Services / Air Transport to and from Africa / Air Transport between safari camps /Park Fees /  Gifts and curios .
SaveSave
SaveSave
SaveSave
SaveSave
SaveSave
SaveSave
SaveSave
SaveSave
SaveSave
SaveSave
SaveSave
SaveSave