Sanctuary Chief's Camp.
Welcome to the former royal hunting reserve of Chief Moremi, in the heart of the Okavango Delta. Wildlife and wilderness are as abundant as action and adrenaline and refinement and relaxation at this remarkable remodelled luxury camp. Personal service, an extraordinary setting, exceptional viewing and enthusiastic expert guides are the hallmarks of a Sanctuary Retreats experience – here at Sanctuary Chief's Camp we promise a unique attention to detail and strong environmental and philanthropic credentials to ensure the ultimate luxury safari experience.
Intimate and exclusive, Sanctuary Retreats properties are always set in outstanding natural landscapes. Here in this game reserve, thanks to soul-stirring perspectives from the private pavilions, the lounge deck and your dinner tables, you won't ever miss the thrill of a viewing. As well as ensuring a distinct sense of Botswanan place, every encounter and activity feels authentic, thanks to the camp having been reimagined in keeping with local traditions and cultures – which is how we believe responsible tourism should be.
Sanctuary Chief's Camp's sophisticated accommodation with natural hues and materials that complement the charismatic scenery and the first-class dining and wines, regularly earns rankings among the world's top safari destinations from arbiters such as Condé Nast Traveler and Travel & Leisure.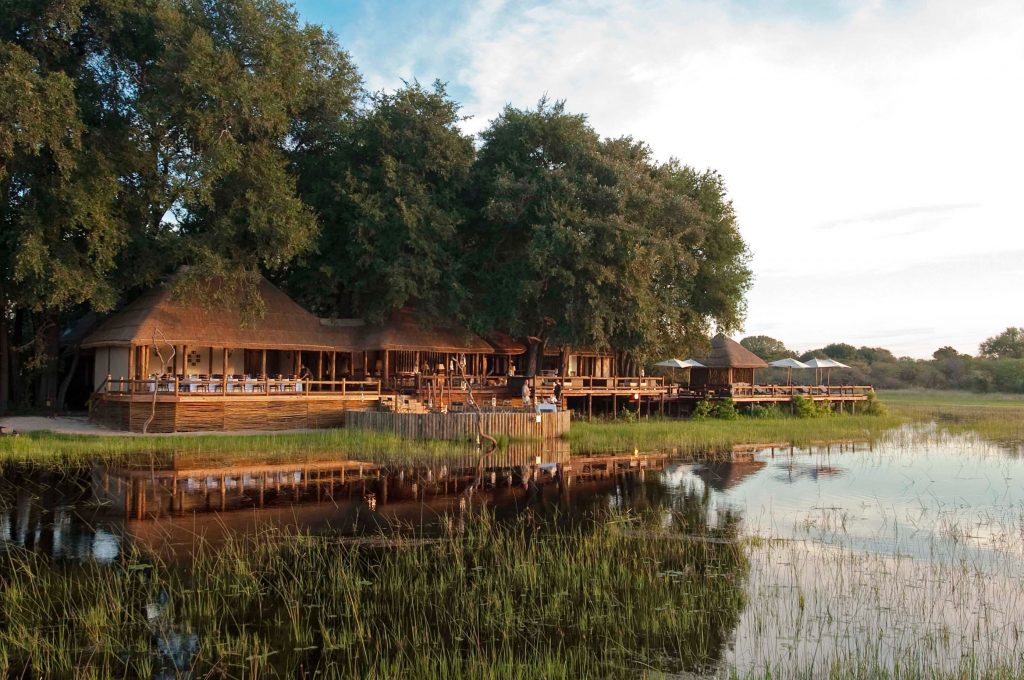 We are delighted to offer Sanctuary Chief's Camp. Renowned for its exceptional levels of service and customer experience, This exclusive camp is consistently rated as one of the top safari camps in Botswana. It is located on Chief's Island in the Mombo Concession of the famous Moremi Game Reserve in the Okavango Delta, an area known as the 'predator capital of Africa. We look forward to welcoming guests to the new-look camp from June 2016.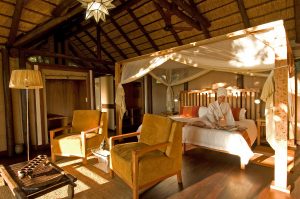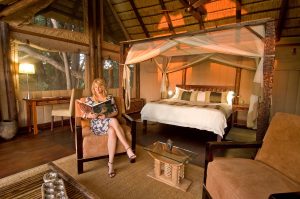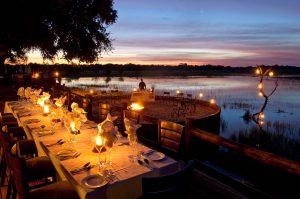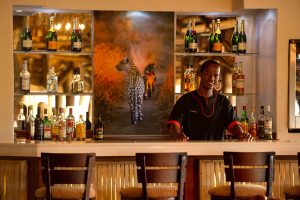 Named after Chief Moremi, Sanctuary Chief's Camp is located in the world-renowned Moremi Game Reserve. The luxurious camp is ideal for an exciting African safari due to the vast numbers of animals that congregate all year round. Chief's Island is one of the many islands created by the seasonal flood waters of the Okavango Delta and is well-known for the finest game viewing in Southern Africa. With the finest cuisine and wines, the camp is also consistently rated as one of the top safari camps in Botswana by Condé Nast and Travel & Leisure.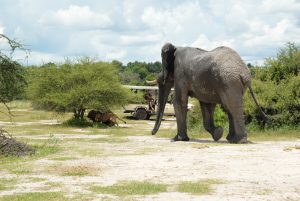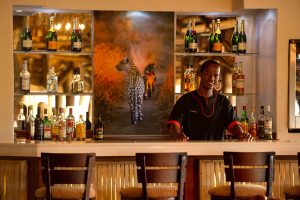 As the predator capital of the world, the game viewing is awe-inspiring. But apart from its predators, the Moremi is also renowned for its large concentrations of plains-game, elephant and buffalo. You will also no doubt see giraffe, impala and zebra. Endangered wild dog also make this area their home. Several lion prides as well as genet cats and hyena also live in abundance here. Like the rest of the Okavango Delta, the area is a paradise for bird lovers, with over 500 species.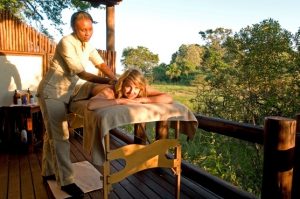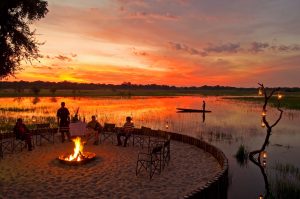 THE PREDATOR CAPITAL OF AFRICA 

A World Heritage Site at the southern edge of the Great Rift Valley, the Okavango Delta is a spectacular patchwork of clear streams, sparkling lagoons, dramatic floodplains, and thriving forests. As well as a staggering topography, this scenic 22,000 square kilometre sprawl is also teeming with thousands of species of exceptional flora and fascinating fauna for you to observe at close range any time of year. 

Breath-stealing UNESCO-protected nature in the fulcrum of the Okavango Delta, Sanctuary Chief's Camp promises unsurpassed beauty care of the exclusive Mombo Concession on Chief's Island in the biodiverse Moremi Game Reserve. Historically this expanse was the hunting grounds of the great Batawana chiefs – now it's a unique reserve which promises the most incredible safari adventures for discerning travellers. 

This compelling destination is celebrated for its wealth of animals and birds and you're invited to spy elephant, hippo, lion, giraffe, rhino, cheetah, leopard, wildebeest, impala and rare African painted dogs, the most endangered predator in southern Africa – all in one day, and all to yourselves. Guests tell us they feel as though they're the first to explore this magical terrain, which gives you the rare sense that you're the only ones there on safari. 

"Chief's Camp is one of Botswana's most luxurious safari camps and is impossibly spoiling. Everything here is perfect and that goes for the game viewing too. Chief's Island is perhaps one of the most famous game viewing destinations in Africa." – A Luxury Travel Blog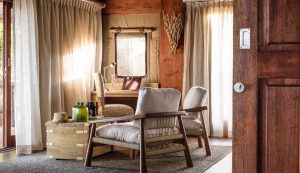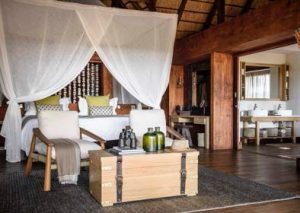 SAFARIS & ACTIVITIES
Thrilling game drives led by highly quali ed professionals in a new eet of customised game drive vehicles are the highlight of this luxury safari camp – and here on this excep onal reserve the big ve are the stars of the show. Apart from its predators, this UNESCO-protected area is also renowned for its concentra on of plains-game, elephant and bu alo and several lion prides as well as genet cats and hyena who live here in abundance. The Okavango Delta is a paradise for birds, with over 500 species making these plains their home.
The narrow channels of the Delta are ooded for much of the year, and we invite you to explore them at the gentle pace of a mokoro. Glide through lily ponds in these dugout canoes on our poled excursions which get you up close and personal with all kinds of wildlife. You'll never miss a moment of nature's theatre, even when sat with a drink in hand in the chic decked lounge, dining area or re pit – our Camp overlooks these popular oodplains, and you never know who will perform for you on your watch.
"Sanctuary Chief's Camp was a big impressive ck o my bucket list... I felt so at home at the Safari Lodge we saw unbelievable wildlife, not only on the game drives but right outside our magni cent room." - Tom Felton (Draco Malfoy in Harry Po er lms)
SPA & NEW FITNESS CENTRE
A range of spa treatments are available from the spa treatment room. Everything about the camp and treatment room is environmentally friendly, including the Africology spa treatment range used. Choose from a range of facial skin care treatments such as the balancing rose facial, Body therapies include an African heated stone massage and our body rituals include a tropical immune boosting mud body wrap. The perfect way to end a day of spectacular game viewing. The new fitness centre includes:
Treadmill
Exercise bike
Rowing machine
Weights
Yoga equipment

SPA PRODUCTS

AfricologyTM uses healing essences of some of South Africa's indigenous plants,
Rooibos, Aloe Ferox, Marula and African Potato. They are a natural, organic range,
chemical free and allow nature to fragrance their products naturally and select actives that bring balance and harmony to the skin. They practice fair trade and show a great social responsibility to empowering the people of Africa. They are dermalogically tested to EU standards, not tested on animals or use any animal products.
THALGO is the prestigious French marine-based spa health & product range by drawing on the remarkable potential of algae, and focusing on natural ingredients that are most adapted to the human body, THALGO is able to offer effective and safe products with exceptional results.

GAME DRIVES

Our expert guides are always on hand to share their wealth of wildlife knowledge as you explore the Delta in modified open 4 x 4 vehicles on morning and afternoon game drives. The game viewing opportunities at Sanctuary Chief's Camp are awe-inspiring. On the plains one may find the roaming lions that prey on the thousands of antelope, zebra and buffalo who live here all year round. There are also healthy populations of wild dog. These extremely rare predators have been hunted to the point of extinction in most areas of Africa and this is one of their last strongholds. There are several local lion prides and leopards, genet cats and hyena are in abundance.