Lessons in wildlife photography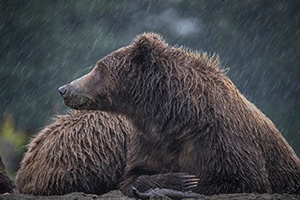 Close up or Environmental. 
Close up is normally a head or full body Image where the subject stands on its own.
The background is normally out of focus and does not interfere with the subject. (background blur is created by the lens compression and the lens F stop setting).
The stronger the telephoto the more background blur. The Smaller the F stop,  the more blur you will get in the background. I prefer to use f6.3 or f 8 on wildlife portraits.
Eyes are very important with the subject making eye contact with the viewer or allowing the viewer to experience the emotion and thoughts of the subject. Brown Bears have very small and dark eyes. Proper exposure is very important.             Key lights in the eyes will also help to create a connection with the viewer of the image.
Watch for eye contact, or eyes leading you through the image, when you see the correct eye movement or direction, create your image.
Sharpness of subject is very important. From tip of nose to eyes must be sharp
subject brighter than background.
G. Environmental Images are made up of the subject and the surrounding environment. The environment should support the subject, and complete the composition by telling a story. Placement of the subject should fall with in the rules of composition and add a positive element to the overall image.look for leading lines that can lead a viewers eyes to the subject.The back ground does not always have to be completely sharp, however it needs to be sharp enough to be recognized as the supporting environment .H. framing the subject with the foreground is a very effective way to draw the viewers eyes to the subject. Sort of cradling the subject and holding it within the image.Many different environmental objects can be used to frame the subject. In this image we have actually framed the bear with the water from the river.


Here is a you tube video that fits into this lesson plan.
SaveSave
SaveSave
SaveSave